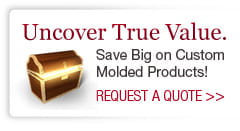 Service for Parts, Products… and People
Injection Molding Services Customized for You
Your finished injection molded parts or products are only the end result. National Molded Products believes you should see measurable results not just at the end, but also from end-to-end. Here's what else you can expect…
Fully Equipped: NMP owns a highly functional factory complete with a full complement of injection molding machines, plus assembly and secondary equipment, to handle any volume injection molding job accurately, effectively and reliably.
Fully Capable: Custom, solid, hollow—you name it—and NMP craftsman and toolmakers can mold it into the parts or products you need.
Fully Committed: NMP professionals pledge to inject a healthy dose of pride, professionalism and personal attention into every aspect of our business relationship with you.
With 30-plus years of knowledge, skill and experience, National Molded Products can handle any kind of injection molding job. Any product or part that needs molding … any size or dimensions. …any volume — anything you can imagine, NMP can mold it to your specifications and satisfaction.
Injection Molding and Beyond…
Other services from National Molded Products include:
Sonic Welding of Plastic
Sub-Assembly
Parts Bags
Hot Stamping
And More!
Molding Materials NMP works with:
Polypropylene
High & Low Density Polystyrene
Rigid and Flexible PVC
Nylon
Buterate
Santoprene
PETG
Rynite
GP ABS
Polycarbonate
Acrylic
Ryton
Plateable ABS
For more information about NMP injection molded products, contact us or Request a Quote.